Warning
: Illegal string offset 'produktnavn' in
/var/www/vorhjem.dk/public_html/wp-content/plugins/product-feed-viewer/function.php
on line
27
Warning
: Illegal string offset 'produktnavn' in
/var/www/vorhjem.dk/public_html/wp-content/plugins/product-feed-viewer/function.php
on line
27
Warning
: Illegal string offset 'produktnavn' in
/var/www/vorhjem.dk/public_html/wp-content/plugins/product-feed-viewer/function.php
on line
27
Warning
: Illegal string offset 'produktnavn' in
/var/www/vorhjem.dk/public_html/wp-content/plugins/product-feed-viewer/function.php
on line
27
Warning
: Illegal string offset 'produktnavn' in
/var/www/vorhjem.dk/public_html/wp-content/plugins/product-feed-viewer/function.php
on line
27
Warning
: Illegal string offset 'produktnavn' in
/var/www/vorhjem.dk/public_html/wp-content/plugins/product-feed-viewer/function.php
on line
27
Warning
: Illegal string offset 'produktnavn' in
/var/www/vorhjem.dk/public_html/wp-content/plugins/product-feed-viewer/function.php
on line
27
Warning
: Illegal string offset 'produktnavn' in
/var/www/vorhjem.dk/public_html/wp-content/plugins/product-feed-viewer/function.php
on line
27
Warning
: Illegal string offset 'produktnavn' in
/var/www/vorhjem.dk/public_html/wp-content/plugins/product-feed-viewer/function.php
on line
27
Warning
: Illegal string offset 'produktnavn' in
/var/www/vorhjem.dk/public_html/wp-content/plugins/product-feed-viewer/function.php
on line
27
Warning
: Illegal string offset 'produktnavn' in
/var/www/vorhjem.dk/public_html/wp-content/plugins/product-feed-viewer/function.php
on line
27
Warning
: Illegal string offset 'kategorinavn' in
/var/www/vorhjem.dk/public_html/wp-content/plugins/product-feed-viewer/function.php
on line
178
Warning
: Illegal string offset 'beskrivelse' in
/var/www/vorhjem.dk/public_html/wp-content/plugins/product-feed-viewer/function.php
on line
181
Warning
: Illegal string offset '' in
/var/www/vorhjem.dk/public_html/wp-content/plugins/product-feed-viewer/function.php
on line
183
Warning
: Cannot assign an empty string to a string offset in
/var/www/vorhjem.dk/public_html/wp-content/plugins/product-feed-viewer/function.php
on line
183
Warning
: Illegal string offset 'produktnavn' in
/var/www/vorhjem.dk/public_html/wp-content/plugins/product-feed-viewer/function.php
on line
191
Warning
: Illegal string offset 'beskrivelse' in
/var/www/vorhjem.dk/public_html/wp-content/plugins/product-feed-viewer/function.php
on line
191
Warning
: Illegal string offset 'kategorinavn' in
/var/www/vorhjem.dk/public_html/wp-content/plugins/product-feed-viewer/function.php
on line
178
Warning
: Illegal string offset 'beskrivelse' in
/var/www/vorhjem.dk/public_html/wp-content/plugins/product-feed-viewer/function.php
on line
181
Warning
: Illegal string offset '' in
/var/www/vorhjem.dk/public_html/wp-content/plugins/product-feed-viewer/function.php
on line
183
Warning
: Cannot assign an empty string to a string offset in
/var/www/vorhjem.dk/public_html/wp-content/plugins/product-feed-viewer/function.php
on line
183
Warning
: Illegal string offset 'produktnavn' in
/var/www/vorhjem.dk/public_html/wp-content/plugins/product-feed-viewer/function.php
on line
191
Warning
: Illegal string offset 'beskrivelse' in
/var/www/vorhjem.dk/public_html/wp-content/plugins/product-feed-viewer/function.php
on line
191
Warning
: Illegal string offset 'kategorinavn' in
/var/www/vorhjem.dk/public_html/wp-content/plugins/product-feed-viewer/function.php
on line
178
Warning
: Illegal string offset 'beskrivelse' in
/var/www/vorhjem.dk/public_html/wp-content/plugins/product-feed-viewer/function.php
on line
181
Warning
: Illegal string offset '' in
/var/www/vorhjem.dk/public_html/wp-content/plugins/product-feed-viewer/function.php
on line
183
Warning
: Cannot assign an empty string to a string offset in
/var/www/vorhjem.dk/public_html/wp-content/plugins/product-feed-viewer/function.php
on line
183
Warning
: Illegal string offset 'produktnavn' in
/var/www/vorhjem.dk/public_html/wp-content/plugins/product-feed-viewer/function.php
on line
191
Warning
: Illegal string offset 'beskrivelse' in
/var/www/vorhjem.dk/public_html/wp-content/plugins/product-feed-viewer/function.php
on line
191
Warning
: Illegal string offset 'kategorinavn' in
/var/www/vorhjem.dk/public_html/wp-content/plugins/product-feed-viewer/function.php
on line
178
Warning
: Illegal string offset 'beskrivelse' in
/var/www/vorhjem.dk/public_html/wp-content/plugins/product-feed-viewer/function.php
on line
181
Warning
: Illegal string offset '' in
/var/www/vorhjem.dk/public_html/wp-content/plugins/product-feed-viewer/function.php
on line
183
Warning
: Cannot assign an empty string to a string offset in
/var/www/vorhjem.dk/public_html/wp-content/plugins/product-feed-viewer/function.php
on line
183
Warning
: Illegal string offset 'produktnavn' in
/var/www/vorhjem.dk/public_html/wp-content/plugins/product-feed-viewer/function.php
on line
191
Warning
: Illegal string offset 'beskrivelse' in
/var/www/vorhjem.dk/public_html/wp-content/plugins/product-feed-viewer/function.php
on line
191
Warning
: Illegal string offset 'kategorinavn' in
/var/www/vorhjem.dk/public_html/wp-content/plugins/product-feed-viewer/function.php
on line
178
Warning
: Illegal string offset 'beskrivelse' in
/var/www/vorhjem.dk/public_html/wp-content/plugins/product-feed-viewer/function.php
on line
181
Warning
: Illegal string offset '' in
/var/www/vorhjem.dk/public_html/wp-content/plugins/product-feed-viewer/function.php
on line
183
Warning
: Cannot assign an empty string to a string offset in
/var/www/vorhjem.dk/public_html/wp-content/plugins/product-feed-viewer/function.php
on line
183
Warning
: Illegal string offset 'produktnavn' in
/var/www/vorhjem.dk/public_html/wp-content/plugins/product-feed-viewer/function.php
on line
191
Warning
: Illegal string offset 'beskrivelse' in
/var/www/vorhjem.dk/public_html/wp-content/plugins/product-feed-viewer/function.php
on line
191
Warning
: Illegal string offset 'kategorinavn' in
/var/www/vorhjem.dk/public_html/wp-content/plugins/product-feed-viewer/function.php
on line
178
Warning
: Illegal string offset 'beskrivelse' in
/var/www/vorhjem.dk/public_html/wp-content/plugins/product-feed-viewer/function.php
on line
181
Warning
: Illegal string offset '' in
/var/www/vorhjem.dk/public_html/wp-content/plugins/product-feed-viewer/function.php
on line
183
Warning
: Cannot assign an empty string to a string offset in
/var/www/vorhjem.dk/public_html/wp-content/plugins/product-feed-viewer/function.php
on line
183
Warning
: Illegal string offset 'produktnavn' in
/var/www/vorhjem.dk/public_html/wp-content/plugins/product-feed-viewer/function.php
on line
191
Warning
: Illegal string offset 'beskrivelse' in
/var/www/vorhjem.dk/public_html/wp-content/plugins/product-feed-viewer/function.php
on line
191
Warning
: Illegal string offset 'kategorinavn' in
/var/www/vorhjem.dk/public_html/wp-content/plugins/product-feed-viewer/function.php
on line
178
Warning
: Illegal string offset 'beskrivelse' in
/var/www/vorhjem.dk/public_html/wp-content/plugins/product-feed-viewer/function.php
on line
181
Warning
: Illegal string offset '' in
/var/www/vorhjem.dk/public_html/wp-content/plugins/product-feed-viewer/function.php
on line
183
Warning
: Cannot assign an empty string to a string offset in
/var/www/vorhjem.dk/public_html/wp-content/plugins/product-feed-viewer/function.php
on line
183
Warning
: Illegal string offset 'produktnavn' in
/var/www/vorhjem.dk/public_html/wp-content/plugins/product-feed-viewer/function.php
on line
191
Warning
: Illegal string offset 'beskrivelse' in
/var/www/vorhjem.dk/public_html/wp-content/plugins/product-feed-viewer/function.php
on line
191
Warning
: Illegal string offset 'kategorinavn' in
/var/www/vorhjem.dk/public_html/wp-content/plugins/product-feed-viewer/function.php
on line
178
Warning
: Illegal string offset 'beskrivelse' in
/var/www/vorhjem.dk/public_html/wp-content/plugins/product-feed-viewer/function.php
on line
181
Warning
: Illegal string offset '' in
/var/www/vorhjem.dk/public_html/wp-content/plugins/product-feed-viewer/function.php
on line
183
Warning
: Cannot assign an empty string to a string offset in
/var/www/vorhjem.dk/public_html/wp-content/plugins/product-feed-viewer/function.php
on line
183
Warning
: Illegal string offset 'produktnavn' in
/var/www/vorhjem.dk/public_html/wp-content/plugins/product-feed-viewer/function.php
on line
191
Warning
: Illegal string offset 'beskrivelse' in
/var/www/vorhjem.dk/public_html/wp-content/plugins/product-feed-viewer/function.php
on line
191
Warning
: Illegal string offset 'kategorinavn' in
/var/www/vorhjem.dk/public_html/wp-content/plugins/product-feed-viewer/function.php
on line
178
Warning
: Illegal string offset 'beskrivelse' in
/var/www/vorhjem.dk/public_html/wp-content/plugins/product-feed-viewer/function.php
on line
181
Warning
: Illegal string offset '' in
/var/www/vorhjem.dk/public_html/wp-content/plugins/product-feed-viewer/function.php
on line
183
Warning
: Cannot assign an empty string to a string offset in
/var/www/vorhjem.dk/public_html/wp-content/plugins/product-feed-viewer/function.php
on line
183
Warning
: Illegal string offset 'produktnavn' in
/var/www/vorhjem.dk/public_html/wp-content/plugins/product-feed-viewer/function.php
on line
191
Warning
: Illegal string offset 'beskrivelse' in
/var/www/vorhjem.dk/public_html/wp-content/plugins/product-feed-viewer/function.php
on line
191
Warning
: Illegal string offset 'kategorinavn' in
/var/www/vorhjem.dk/public_html/wp-content/plugins/product-feed-viewer/function.php
on line
178
Warning
: Illegal string offset 'beskrivelse' in
/var/www/vorhjem.dk/public_html/wp-content/plugins/product-feed-viewer/function.php
on line
181
Warning
: Illegal string offset '' in
/var/www/vorhjem.dk/public_html/wp-content/plugins/product-feed-viewer/function.php
on line
183
Warning
: Cannot assign an empty string to a string offset in
/var/www/vorhjem.dk/public_html/wp-content/plugins/product-feed-viewer/function.php
on line
183
Warning
: Illegal string offset 'produktnavn' in
/var/www/vorhjem.dk/public_html/wp-content/plugins/product-feed-viewer/function.php
on line
191
Warning
: Illegal string offset 'beskrivelse' in
/var/www/vorhjem.dk/public_html/wp-content/plugins/product-feed-viewer/function.php
on line
191
Warning
: Illegal string offset 'kategorinavn' in
/var/www/vorhjem.dk/public_html/wp-content/plugins/product-feed-viewer/function.php
on line
178
Warning
: Illegal string offset 'beskrivelse' in
/var/www/vorhjem.dk/public_html/wp-content/plugins/product-feed-viewer/function.php
on line
181
Warning
: Illegal string offset '' in
/var/www/vorhjem.dk/public_html/wp-content/plugins/product-feed-viewer/function.php
on line
183
Warning
: Cannot assign an empty string to a string offset in
/var/www/vorhjem.dk/public_html/wp-content/plugins/product-feed-viewer/function.php
on line
183
Warning
: Illegal string offset 'produktnavn' in
/var/www/vorhjem.dk/public_html/wp-content/plugins/product-feed-viewer/function.php
on line
191
Warning
: Illegal string offset 'beskrivelse' in
/var/www/vorhjem.dk/public_html/wp-content/plugins/product-feed-viewer/function.php
on line
191
Snerydnings udstyr
Snerydning, vi har lige haft en gang sne i gaderne, mere er måske på vej om en uges tid. I vejrudsigten hører man at koldere vinde blæser mod Danmark, det betyder fare for mere sne og slud. Hvis du bor et sted med f.eks. fortov, så skal du sørge for at der bliver ryddet når sneen falder. Det kan man selvfølgelig gøre man mange redskaber. Men det bedste og mest effektive på mindre arealer er og bliver en sneskovl.
En sneskovl behøver ikke koste en bondegård, det kan faktisk gøres fra omkring 100 kroner, hvis det skal være en billig løsning og op til et par hundrede kroner, hvis der er tale om en lidt mere avanceret løsning. Julen nærmer sig, hvem ved, måske med hvid jul? I år så vi hvordan sneen kom efter nytår og i løbet af de første par måneder. Så hvis du ikke har en sneskovl, så kan det hurtigt blive en god investering.
Moreland.dk har et fint udvalg af sneskovle
Der blev ikke fundet varer for det valgte søgeord.
Hvordan er det nu er med sne, vinter og snerydning?
Ifølge dansk lovgivning skal du have ryddet dit fortov, hvis det holder op med at sne imellem kl. 7 og 22. Husk også salt eller grus hvis der er tendens til at være isglat. Er der tale om en beton belægning, så er Urea en bedre løsning, da traditionelt vejsalt kan ødelægge belægningen.
Den lette løsning – Feje maskinen
Hvis du ikke lige magter at gå rundt med en skovl og er mere til motor og benzin, så skal du da have en fejemaskine. En feje maskine er effektiv til snerydning og fås i flere prisklasser, et af de gode mærker er Texas, ser vi nærmere på hvad Texas kan tilbyde, så er der i skrivende stund 15 forskellige maskiner i forskellige størrelser. Priserne starter ved ca. 4000 kr. for de mindste maskiner.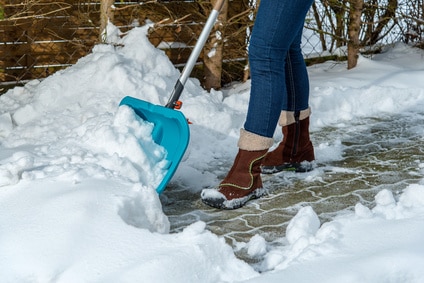 Vil du undgå salt i din vinterbekæmpelse?
Har du hørt om ICE & DUST-AWAY? det havde vi ikke, så vi tager lige en præsentation til produktet.
Miljøvenlig, Skånsomt for husdyr, Støv dæmpende, Fjerner alger, skal bare sprøjtes ud over belægningen og rækker til ca. 500 m2. Læs mere om Ice & Dust Away her.